Polycarbonate roofing sheets have many uses, they are mostly used for conservatories, carports, or greenhouses thanks to their tough, lightweight, and cost-effective qualities. Polycarbonate is a tough thermoplastic 250 times stronger than glass, but much lighter since it's virtually unbreakable it's often a safe choice for the home and public spaces. We understand measuring and deciding how much material you need can be stressful, so here at eRoofs, we've launched a handy cut-to-size polycarbonate calculator.
How to use our calculator
Once you head to our website, you'll see the calculator on the first page, simply click to open it or click here to be taken there. Here you'll be greeted with our cut-to-size calculator, ready to use! By presenting you the option to choose specifically what you need for your project, we aim to reduce waste, which is better for the environment and, importantly, will save you money.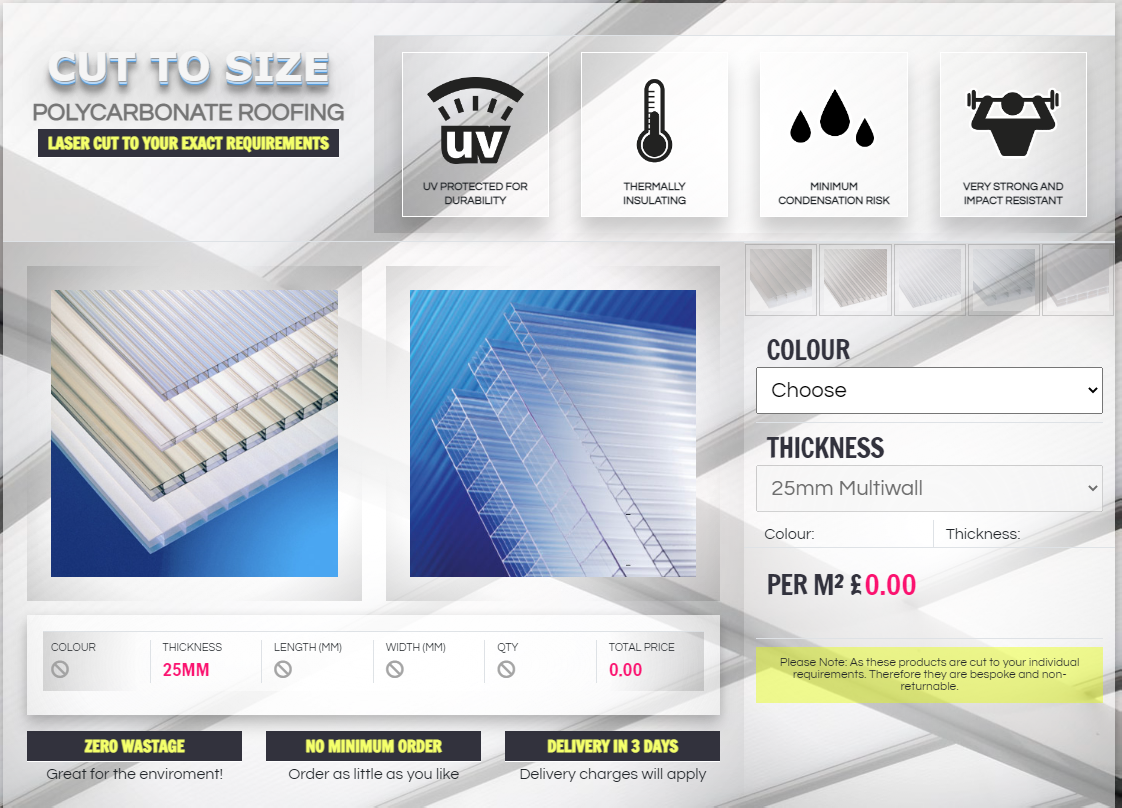 Choosing your colour
We offer a choice of five colours to suit your needs, meaning you don't have to compromise how your project matches your home! Here are the differences between the main colours:
Clear polycarbonate lets the maximum amount of light shine through. It also lets the most heat in and can be a good choice for darker, colder areas.
Opal polycarbonate allows diffused softer light through and helps to reduce heat build-up and hot spots. Its tinted appearance provides a good level of privacy while still maintaining a light and bright space.
Bronze polycarbonate is good for excessively bright spaces where you may want less light. It helps to reduce heat build-up, keeping rooms cooler.
Heatguard opal is named very aptly. This doubly extruded sheet has a grey outer surface and an opal inner.  This product is especially suited to very south-facing conservatories. The grey outer layer reflects and repels heat helping to keep your conservatory cooler than with standard glazing.
Bronze Opal polycarbonate is once again a double extruded sheet with a bronze outer and an opal inner surface. Suited to sunny conservatories, the outer layer reflects light and repels heat to a lesser degree than Heatguard.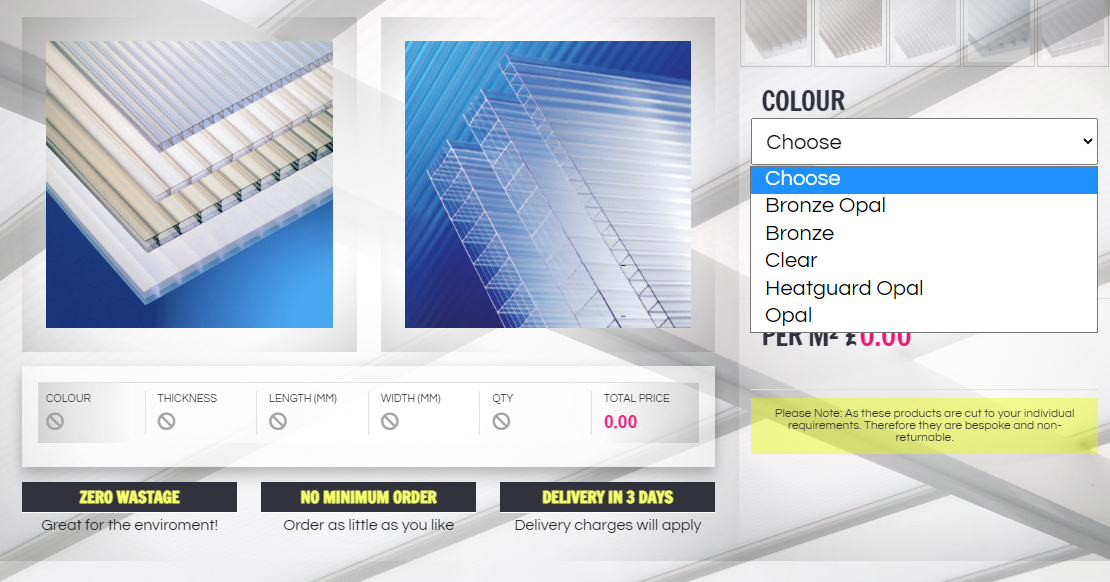 Choosing your thickness
As polycarbonate sheets get thicker, the more colour options you have to choose from. For example, our Opal sheets offer a wider range of thickness, your thickness requirement is entirely dependent on your project. Here is an easy guide:
10mm /16mm polycarbonate: This is suitable for smaller unheated conservatories or sheds, where you are not looking for any real insulation. For this thickness, we would recommend clear, opal or bronze colours.
25mm polycarbonate: This is a very popular thickness for conservatories. You have the option of the usual colours of clear, opal or bronze but the addition of dual colour sheets in Bronze Opal and HeatGuard.
35mm polycarbonate: This polycarbonate was created specifically for conservatories. The colours available are; standard colours of clear, opal or bronze but the addition of dual colour sheets in Bronze-Opal and HeatGuard.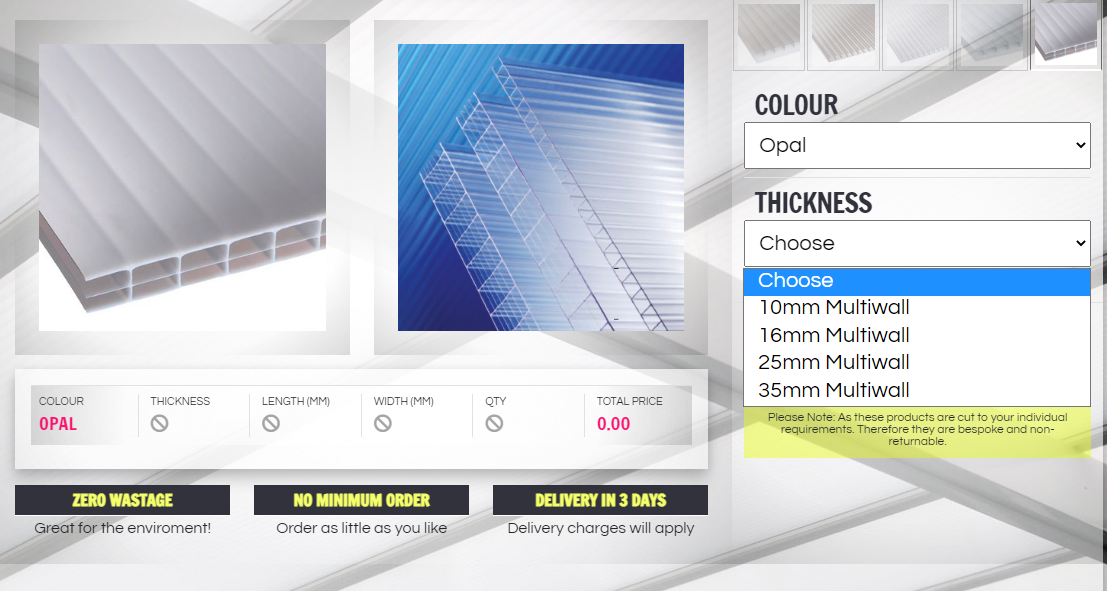 Calculating your total
Once you've selected your desired colour and thickness, simply add your measurements and add them to the basket! We aim to deliver within three days so you can get your project started as soon as possible.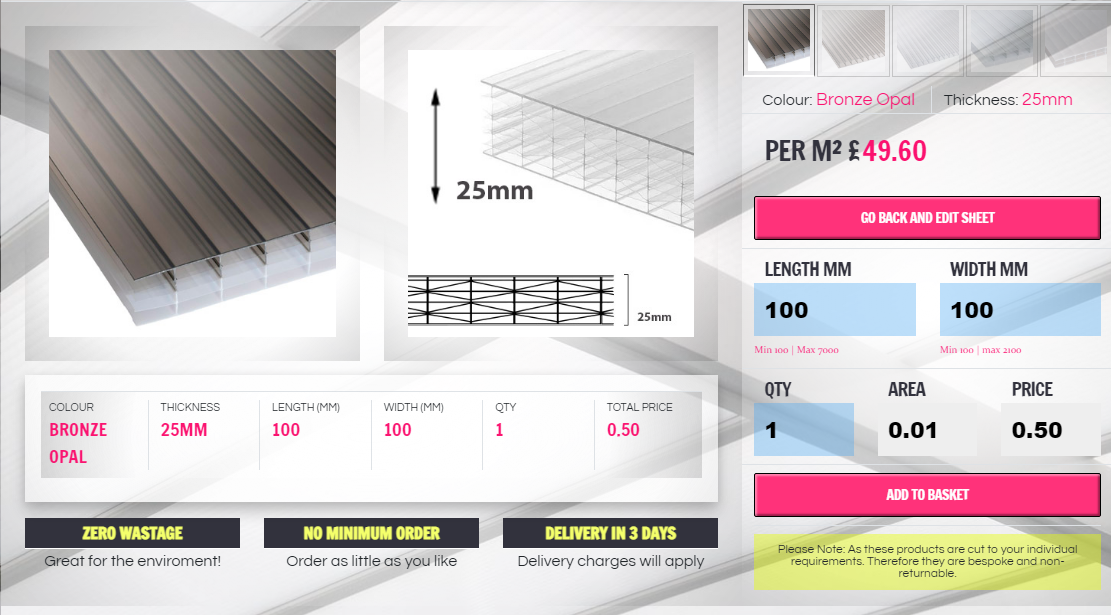 Shop polycarbonate sheets at eRoofs
We also offer plenty of support and expert advice for most roofing projects – and definitely any products we sell online. Contact eRoofs here
At eRoofs, you can not only expect a good deal but also:
Superfast FREE delivery on orders over £150*
Handy FREE installation guides (and even instructional videos!)
Incredible prices on composite decking (and frequent big discounts!)
*Free delivery applies to most of the UK, but some areas may incur a charge, unfortunately – please check the eRoofs website for more details.
**Prices all correct at time of writing