Your home is your sanctuary, shielding you from the elements and providing comfort and security. But what happens when that shield starts to falter? A failing roof can lead to a myriad of problems, from water leaks to higher energy bills. As you consider giving your roof a much-needed makeover, it's crucial to understand the signs of a failing roof. By being proactive and addressing these warning signals promptly, you can save yourself from potential headaches down the road. In this blog post, we will explore the tell-tale signs that indicate your roof is in need of attention. So grab a cup of coffee, settle in, and let's dive into the world of roofing!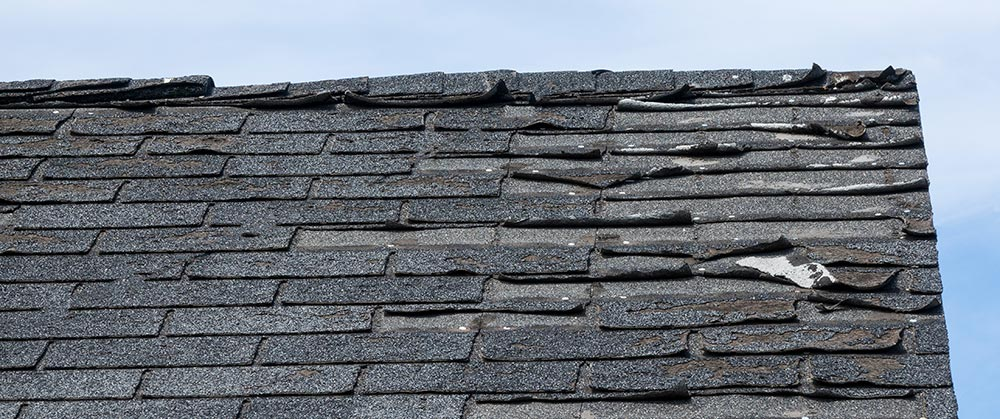 Loose or Missing Shingles: A Warning Sign
One of the most apparent signs that your roof may be failing is loose or missing shingles. Take a few moments to visually inspect your roof from ground level. Do you notice any shingles that appear out of place or completely absent? These gaps leave vulnerable areas exposed to rain, wind, and other harsh weather conditions.
Shingles can become loose due to various reasons such as aging, improper installation, or storm damage. Regardless of the cause, it's crucial not to overlook this issue. Even a single missing shingle can compromise the integrity of your entire roof system.
Sagging: When Your Roof Tells You It Needs Help
If you spot any noticeable sagging in your roofline, it's time to take action immediately. Sagging is an unmistakable sign that there are structural issues at play. This could be caused by several factors:
Water Damage: Prolonged exposure to moisture can weaken the structure of your roof over time.
Improper Installation: If your roof was installed incorrectly or without proper support structures, sagging may occur sooner than expected.
Excessive Weight: The weight of heavy snow or ice accumulation can strain your roof, leading to sagging.
Sagging not only compromises the overall stability of your roof but also raises concerns about potential structural damage to your home. Don't delay in contacting a professional roofing contractor to assess the situation and recommend appropriate repairs or replacements.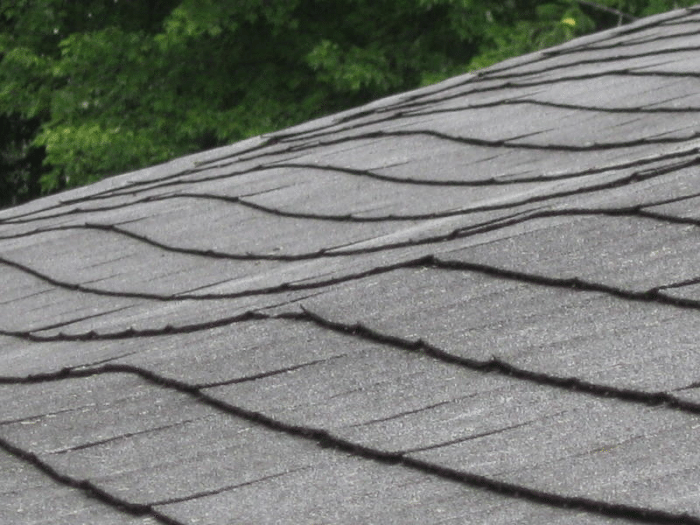 Exposed Nail Heads: A Red Flag You Shouldn't Ignore
During a visual inspection of your roof, keep an eye out for exposed nail heads. These are nails that were once securely hidden beneath shingles but have now become visible. Exposed nail heads can be indicative of several issues:
Loose Shingles: As shingles age or experience extreme weather conditions, they may loosen, causing nails to pop up.
Improper Installation: If the original installation was done poorly, nails may not have been properly secured.
Structural Movement: Over time, the natural expansion and contraction of your roof's materials can cause nails to work their way out.
Exposed nail heads create openings for water penetration, which can lead to leaks and further damage. If you spot any exposed nails on your roof, it's essential to have them addressed promptly by a roofing professional.
Curled, Cracked, or Blistering Shingles: A Warning of Roof Decay
Asphalt shingles are a popular choice for many homeowners due to their durability and affordability. However, over time, these shingles can deteriorate due to exposure to the sun's ultraviolet rays and other weather elements. Keep an eye out for curled, cracked, or blistering shingles during your inspection.
Curled Shingles: When the edges of shingles curl upward or downward instead of lying flat against the roof surface.
Cracked Shingles: Visible cracks running along the length of individual shingles.
Blistering Shingles: Raised areas on the surface of the shingles, often filled with moisture.
These signs of decay indicate that your shingles are nearing the end of their lifespan and may no longer effectively protect your home from water infiltration. If left unaddressed, this deterioration can lead to more extensive damage and costly repairs down the line.
Granules or Debris in Your Gutters: A Clue to Roof Wear and Tear
During your regular gutter cleaning routine, take a closer look at what you find inside. Are you noticing an excessive amount of granules or debris? This could be an indication that your roof is wearing down.
Asphalt shingles are coated with tiny granules that protect them from the sun's harmful rays. Over time, these granules will naturally wear away due to age and weather exposure. Significant granule loss can compromise the integrity of your shingles, leaving them susceptible to further damage.
Excessive debris in your gutters may also suggest that your roof is deteriorating and shedding materials. While some accumulation is normal, an excessive amount could signal a problem worth investigating further.
In our next section, we'll explore other crucial signs of a failing roof, including missing or damaged flashing, dark or stained areas on your ceiling, higher-than-average energy bills, and water leaks. Stay tuned for more valuable insights!
Missing or Damaged Flashing: Vulnerabilities in Your Roof's Armor
Flashing plays a crucial role in preventing water from seeping into vulnerable areas of your roof such as joints, chimneys, vents, and skylights. It creates a watertight barrier between these elements and the rest of your roof system.
Missing or damaged flashing compromises this barrier and opens the door for water intrusion. During your inspection, pay close attention to areas where flashing should be present. If you notice any gaps or signs of deterioration in the flashing material itself (typically made of metal), it's essential to address these issues promptly.
Weather exposure and aging can cause flashing to deteriorate over time. To ensure your roof remains in good condition, have any damaged or missing flashing replaced by a professional roofer.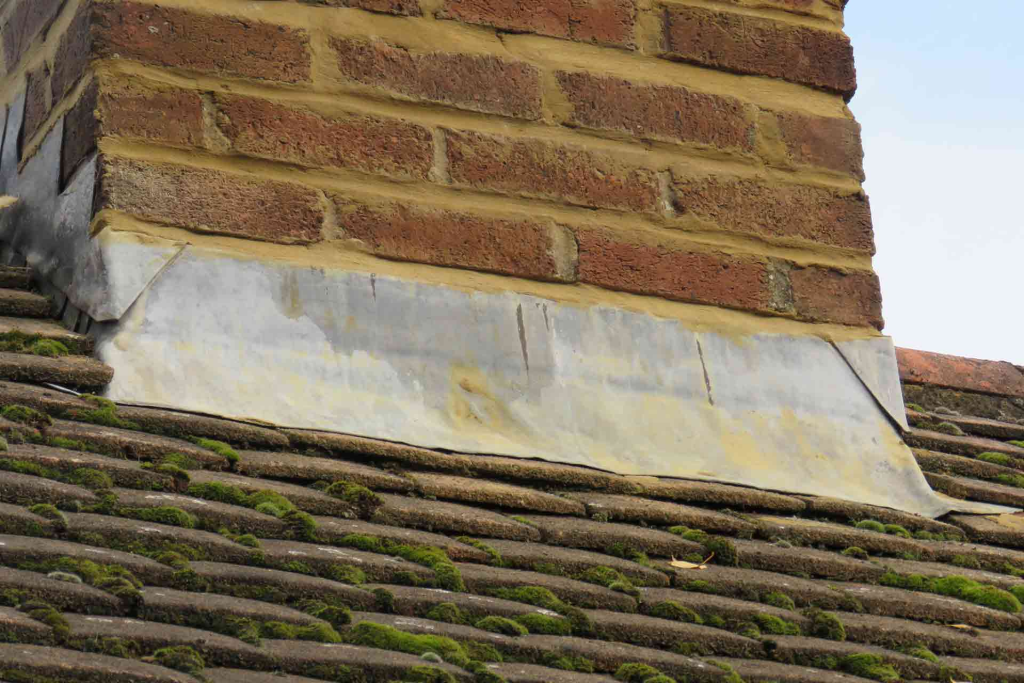 Dark or Stained Areas: Water Damage Takes a Visible Form
Water damage within your home can manifest in various ways, and one of the most visible signs is dark or stained areas on your ceilings. These unsightly marks are often an indication that water has penetrated your roof and is making its way into your living space.
Dark or stained areas may be accompanied by other warning signs such as peeling paint, bulging drywall, or visible mold growth. These issues not only detract from the aesthetic appeal of your home but also signify potential structural damage and health hazards.
If you notice any dark or stained areas on your ceiling, it's crucial to address the underlying roof issue promptly. Ignoring these signs can lead to further damage and costly repairs both inside and outside of your home.
Higher-Than-Average Energy Bills: A Roof That's Costing You
Are you experiencing an unexpected spike in your energy bills? Your failing roof could be to blame. When a roof begins to deteriorate or sustain damage, it compromises its ability to insulate your home effectively.
As heat escapes through cracks, gaps, or inadequate insulation caused by a failing roof, it forces your heating and cooling systems to work harder to maintain desired temperatures. This increased workload translates into higher energy consumption and elevated utility bills.
While higher energy bills alone may not definitively indicate a failing roof (as there could be other factors at play), they should serve as a red flag for further investigation. Addressing any roofing issues can help improve energy efficiency and save you money in the long run.
In our final section, we'll explore the ultimate sign of a failing roof: water leaks in your top-floor ceilings. Stay with us as we wrap up this comprehensive guide!
Water Leaks in Your Top-Floor Ceilings: The Ultimatum
Perhaps the most concerning sign of a failing roof is water leaking into your top-floor ceilings. If you notice water stains, dampness, or even active dripping from your ceiling, it's essential to take immediate action.
Water leaks can cause significant damage not only to your roof but also to the interior of your home. Left unchecked, they can lead to mold growth, compromised structural integrity, and costly repairs. Ignoring these leaks may result in more extensive damage and potential health hazards for you and your family.
If you discover any signs of water leakage in your top-floor ceilings, contact a professional roofing contractor without delay. They will be able to identify the source of the leak and recommend appropriate repairs or replacement options.
Conclusion: Act Now to Protect Your Home
Your roof plays a vital role in safeguarding your home and everything within it. By familiarizing yourself with the signs of a failing roof, you can be proactive in addressing issues before they escalate into costly repairs.
Remember to keep an eye out for loose or missing shingles, sagging, exposed nail heads, curled/cracked/blistering shingles, granules or debris in gutters, missing/damaged flashing, dark/stained areas on ceilings, higher energy bills, and water leaks. These warning signs should prompt you to seek professional assistance promptly.
Don't wait until a small problem becomes a major headache; act now to protect your investment and ensure the safety and comfort of your home for years to come. Reach out to reputable roofing professionals who can assess the condition of your roof and guide you through the necessary steps for repair or replacement.
With proper attention and timely action, you can maintain a durable and reliable roof that will continue to provide peace of mind for you and your loved ones. Don't let a failing roof rain on your parade—take charge and protect your home today!