Is your roof covered in unsightly black and green stains? Are you wondering what causes these blemishes to appear and how you can prevent them? Look no further! In this blog post, we will explore the common culprits behind stained roofs and provide you with insights on how to keep your roof looking clean and pristine. If you're thinking about doing up your roof, understanding the causes of staining is essential. So, let's dive into the world of roof stains and discover how to maintain a beautiful roof for years to come.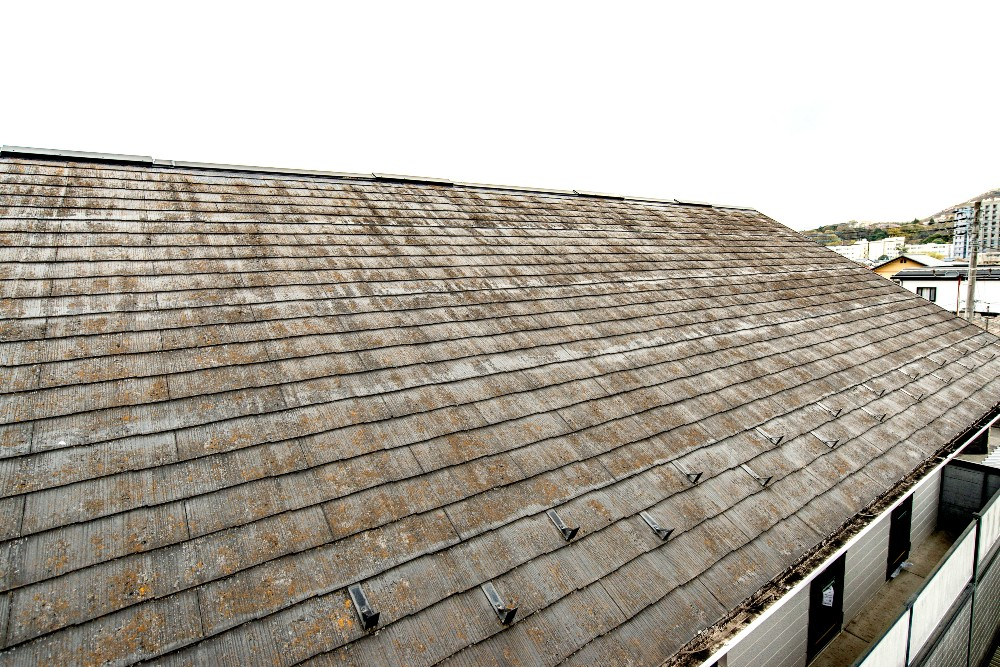 Understanding Algae, Moss, and Lichens
Black streaks or green patches on your roof are often signs of algae, moss, or lichens taking up residence. These organisms thrive in wet and humid environments, making them particularly prevalent in certain climates. While they may seem harmless at first glance, ignoring these stains can lead to severe consequences such as rot, mold growth, and water damage. Let's take a closer look at each culprit:
Algae
Algae are tiny organisms that flourish in damp conditions. They typically appear as black streaks on shingles and can quickly spread across your entire roof if left untreated. While algae do not cause significant structural damage to your roof, their presence can be aesthetically displeasing.
Moss
Moss is a small plant that thrives in moist environments with low sunlight exposure. It appears as a greenish hue on roofs and tends to grow in shaded areas or where there is an accumulation of debris like leaves or branches. Unlike algae, moss has root-like structures that penetrate shingles over time if not addressed promptly.
Lichens
Lichens are unique organisms formed through the symbiotic relationship between fungi and algae or cyanobacteria. They have a distinctive appearance with patches ranging from green to gray or white colors. Lichens grow slowly but can cause damage to your roof by infiltrating and deteriorating shingles.
The Impact of Stains on Your Roof
While the appearance of stains may seem like a purely cosmetic issue, it's crucial to address them promptly. Ignoring or neglecting roof stains can lead to various problems, including:
Reduced Lifespan: Algae, moss, and lichens can retain moisture on your roof's surface, accelerating the deterioration of shingles and shortening their lifespan.
Structural Damage: Over time, the presence of these organisms can compromise the integrity of your roof, leading to leaks, rotting wood decking, and potential water damage inside your home.
Energy Inefficiency: Moss and algae can trap moisture close to the surface of your roof, promoting heat absorption and reducing energy efficiency in your home.
Now that we understand the causes and potential consequences of stained roofs let's explore effective strategies for prevention and maintenance in our next section.
Prevention: Keeping Stains at Bay
Preventing stains from appearing on your roof is easier than dealing with them once they've taken hold. Here are some proactive measures you can take to keep your roof looking clean:
Regular Roof Inspections
Performing regular inspections allows you to identify any signs of staining early on. Look out for discoloration or patches during visual examinations from the ground or through binoculars. If you notice any suspicious areas, it's best to take action sooner rather than later.
Proper Roof Ventilation
Maintaining proper ventilation in your attic helps regulate temperature and humidity levels in your entire roofing system. By preventing excessive moisture build-up, you create an environment less conducive for algae and moss growth.
Tree Trimming
Trimming overhanging tree branches near your roof prevents excessive shade that encourages moss growth while reducing debris accumulation that supports both moss and lichen development.
Regular Cleaning
Regularly cleaning your roof can help deter the growth of algae, moss, and lichens. However, caution should be exercised to avoid damaging shingles or causing additional problems. Consult a professional or follow manufacturer guidelines for safe and effective cleaning methods.
Cleaning Methods: Do's and Don'ts
When it comes to cleaning a stained roof, it's essential to use appropriate techniques that won't cause further damage. Here are some do's and don'ts to keep in mind:
Do's
Use a gentle low-pressure wash or soft-bristle brush to remove stains.
Apply environmentally friendly roof cleaning solutions specifically designed for algae, moss, or lichen removal.
Ensure safety precautions such as using proper footwear and securing yourself with fall protection equipment if necessary.
Don'ts
Avoid using high-pressure washing or aggressive scrubbing techniques that may harm shingles.
Refrain from using chlorine bleach or other harsh chemicals that can damage vegetation and corrode metal components on your roof.
By following these guidelines, you can safely restore the appearance of your roof while minimizing the risk of any unintended consequences.
Professional Assistance: When to Seek Help
While some homeowners may feel confident in tackling roof stains themselves, others prefer enlisting the help of professionals. Consider reaching out to roofing experts in the following situations:
Severe Staining: If your roof is heavily stained or covered in extensive growth, professional help may be necessary to ensure thorough and effective cleaning.
Safety Concerns: Steep roofs or multi-story homes pose safety risks for DIY cleaning. In such cases, it is advisable to hire professionals equipped with appropriate safety gear and expertise.
Lack of Time or Resources: If you lack the time, tools, or physical capability required for proper stain removal, contacting professionals will save you both time and effort.
Remember that professional assistance ensures not only a clean roof but also peace of mind knowing the job is done safely and effectively.
Conclusion
Understanding why your roof is stained is the first step towards maintaining a beautiful and long-lasting roofing system. Algae, moss, and lichens are common culprits that require regular attention to prevent potential damage. By implementing prevention strategies, adopting safe cleaning practices, and seeking professional help when needed, you can keep your roof free from stains and extend its lifespan. So go ahead, give your roof the care it deserves, and enjoy a clean and vibrant home for years to come!