Sawn from the highest quality British Columbian cedar logs, Western Red Cedar Shingles provide a naturally durable and hard wearing roofing or cladding solution, not to mention the visually stunning appearence of the warm red-brown tones that will age gracefully into silver-grey as the seasons and years roll by.
One of the other many benefits of this unique material which more and more people are considering when building or renovating is the enviromental impact of the products & materials they are using for their project, this is where Western Red Cedar shingle really stands out. It has one of the lowest carbon footprints of any building material. The wood used for our shingles are from carefully managed forests and every tree that is processed (plus extra) is replaced which makes it sustainable and in turn the obvious choice for the enviromentially concious.
---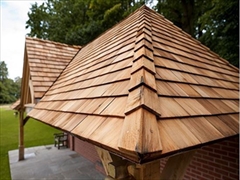 From £61.93 per pack you can get this rustic, striking look without the expensive price tag.
You will also find everything else you need to complete your project on the eRoofs website.
---
Super fast FREE delivery on orders over £150*
48 Hour delivery on many products
*Free delivery applies to most of the UK, but some areas may incur a charge, unfortunately – please check the eRoofs website for more details.
PLEASE NOTE: Prices were all correct at time of writing, current pricing available at eRoofs.co.uk